---
We have a long upland bird season in M

ontana, September 1 to 

January 1. Pheasant season runs October 7 to January 1. The bag limits are generous, Huns 8 per day, sharptails 4 per day, pheasant 3 per day and sage grouse 2 per day. Possession limits are 32 Huns, 12 sharptails, 9 pheasant and 4 sage grouse. My upland bird hunts are based in Lewistown in the central part of the state. The bi

rd

s are all wild and few places offer more variety and opportunity

. In t

he early season you will encounter Hungarian partridge, sharptail grouse, sage grouse, Wilsons snipe and morning dove. Starting in mid October we concentrate on pheasants. Most of the

 hunting is on private land. The terrain i

s rolling hills, native prairie grassland and agricultural areas. Plan to walk 5 to 8 miles per day. Airlines fly to Lewistown, Billings and Great Falls. I do not carry a gun or mix hunting parties. The dogs are well trained English setters, Brittneys and Labrador retrievers. Your trained dog is always welcome.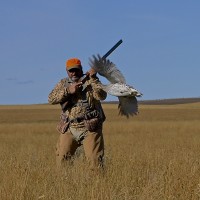 ---
Package Trips
4 night, 3 day hunt
1 person: $4,100
2-3 people: $3,300 per person
Additional days may be reserved.
Included
The lodging for the package trips will be at the Yogo Inn. Accommodations feature private room suites, Bathroom in your suite, dog friendly room, computer wi-fi, smoke free environment, breakfast. Rates include lodging, breakfast and lunch, guide, dogs, lease fees and dressing of birds.
Not Included
Gratuities, dinner, motel dog fee
Reservations and Cancellations
To reserve your hunt please send a 50% deposit. The balance is due at the end of your hunt. Payment may be cash, personal check or travelers check. Sorry, no credit cards accepted. Please allow 180 days notice on cancellations.
---
Hunting References
"I have known Al for 30 years. Al, along with his special setters, is outstanding. Watching his dogs work is a treat in itself. Al Is professional in his work. His loyalty and friendship I will always value very much." – Roger Stuart, Orinda, CA
"Allan, I wanted to let you know how much Carl and I enjoyed hunting with you this past fall. Your extensive knowledge of the birds and their various habitats add a great deal to the enjoyment of the hunt. Having hunted upland birds in Canada, South Dakota, Nebraska, Arizona, Idaho, Colorado and Wyoming, I would not hesitate to recommend Allan's hunt to anyone." – Mickey Asbell, Riverton, WY
"Al Gadoury is the real deal. You'll hunt hard for challenging birds behind good dogs. At the end of the day, your feet will hurt, your heart will be full and your head will barely contain all the great memories." – Scott Linden, Wingshooting USA
"I highly recommend Al Gadoury's 6X Outfitters based on having hunted and fished with Al for close to a decade. Al's professional commitment along with his exceptional knowledge of upland game birds, hunting dogs and sport fish means clients not only have a good time hunting or fishing with him but they learn something as well. He is a professional's professional. In addition to being an excellent guide, Al is a good guy who is very well read and happens to be an excellent cook. I considor him a friend." – Joseph Augustine, author Feathered Tales
"I hope I never have to spend a fall without bird hunting with Al and his dogs in Montana. From the moment Big Sky unloads me on the airport tarmac, the mission of this guide, instructor, raconteur, literate gentleman is not just to provide a "good hunt," but "the best hunt there ever was." – John Martin, Chicago, IL
"Al Gadoury is an excellent guide. He is knowledgeable and takes the extra steps to make a hunting trip memorable. He has become over the years not just a guide, but a friend." – Dr. Richard Saloom, Prattville, AL
"Al, your English Setters are beautifully trained! We will never forget the fantastic grouse shoots we had with you in Montana." – Frank Wentworth, Orinda, CA
"I started hunting with Al in the fall of 1997. I had never shot birds or used a shotgun. I don't know anyone better to teach a person about birds and guns than Al Gadoury! He has very smart dogs that really know their job." – Clyde Waddell, Driggs, Idaho